March, 2017
Please Join the Orphan Disease Center and Global Genes on Friday, May 19th for the 2017 Rare Patient Advocacy Symposium in Philadelphia! Click below to register, space is limited!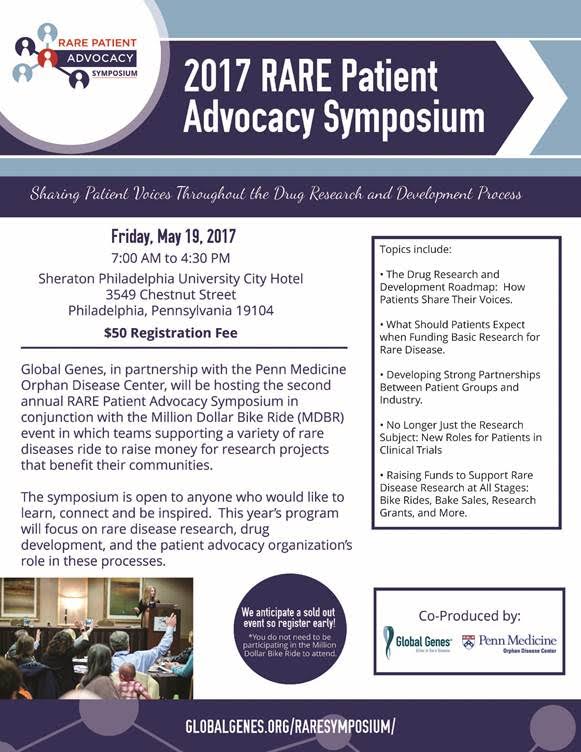 More info:
http://www.med.upenn.edu/orphandisease/ 
https://globalgenes.org/
Summary:
APBDRF 5-4-17 Summary of APBD research jl1ok2

---
February, 2017
The Case for Guaiacol
On February 28, 2017 Dr. Wyatt Yue gave a 5-minute "Lightning Round" presentation about the repurposing of Guaiacol at the Findacure conference in London. He gave attributions to Dr. Orhan Akman and Dr. Or Kakhlon. You can see the presentation below.
Prof. Wyatt Yue Associate Professor, University of Oxford
Repurposing guaiacol for the treatment of adult polyglucosan body disease (slides / video)
With deep appreciation the APBDRF acknowledges the @findacure_fnd @Nick_Sireau and Rick Thompson for their exemplary leadership in raising awareness and supporting rare disease research.
https://www.cambridgenetwork.co.uk/news/existing-drugs-key-treating-rare-diseases-cambridge-charity/
---
September, 2016
APBDRF Film "Life through a lens" will screen at WILLiFEST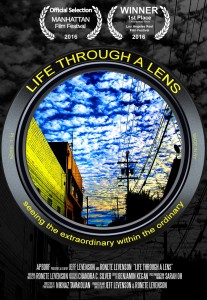 Sunday, September 11, 2016
See you in Williamsburg
Knitting Factory
Documentary Block
12:30pm – 2:30pm
Listen (Music Video)
Antarctica
Nowhere
Muir Song
Underground Notes
Life Through A Lens
NYChapters: Jerry
Diary of a Girl
Tuesday Dinners
Juana and Cande: A Dominican Family Portrait
http://willifest.com/2016/schedule
---
August, 2016
NORD Announces 20 Rare Disease Patient Groups Selected to Develop Natural History Studies as Part of FDA Cooperative Agreement
NORD, the leading, independent nonprofit organization committed to helping people and families affected by rare diseases, today announced the 20 patient groups that will be given the opportunity to develop a natural history study, funded in part by a cooperative agreement with the FDA, through NORD's Natural History Study research platform.
"Our goal is for the 1 in 10 Americans with rare diseases, most of whom are children, to have a treatment and cure, and we developed NORD's Natural History Study platform to eliminate challenges standing in the way of that target," said NORD President and CEO Peter L. Saltonstall. "We thank the FDA for its support of NORD and ongoing commitment to rare diseases."
The 20 patient groups are: Hereditary Neuropathy Foundation, Organic Acidemia Association, XLH Network, Inc., CCHS Family Network, Pitt Hopkins Research Foundation, The OMSLife Foundation, Platelet Disorder Support Association, Global Foundation for Peroxisomal Disorders, APS Type 1 Foundation, Scleroderma Research Foundation, Galactosemia Foundation, Desmoid Tumor Research Foundation, International Pemphigus & Pemphigoid Foundation, The Morgan Leary Vaughan Fund, Adult Polyglucosan Body Disease (APBD) Research, Bridge the Gap-SYNGAP Education and Research Foundation, United Leukodystrophy Foundation, AMENSupport, Lipoprotein(a) Foundation, and Worldwide Syringomyelia & Chiari Task Force.
---
June, 2016
Dr. Or  Kakhlon, of Hadassah-Hebrew University Medical Center and Prof. Miguel Weil, Ph.D. of Tel Aviv University  have been awarded a biannual $343,000 grant from the Israel Chief Scientist to study the effect of new compounds in APBD
We are happy to announce that Dr. Or Kakhlon, of Hadassah-Hebrew University Medical Center and Prof. Miguel Weil, Ph.D. of Tel Aviv University have been awarded a biannual $343,000 grant from the Israel Chief Scientist to study the effect of new compounds in APBD modeling mice. The compounds were discovered at The Cell Screening Facility for Personalized Medicine (TAU), using high throughput screening (HTS) processes.
This grant is the largest single grant ever awarded for APBD research, surpassing a 2013 grant from the Association Francaise contre les Myopathies (AFM), which was awarded in 2013.
Recognition and deep thanks to Orly Shani and our sister Israeli charitable organization IsrApbdf for promoting this and other APBD research opportunities.
The APBD community raised $50,000 for the University of Pennsylvania's Million Dollar Bike Ride for rare disease research.
In addition, we are proud to report that the patients, friends, family members, and colleagues of the APBD community raised $50,000 for the University of Pennsylvania's Million Dollar Bike Ride for rare disease research. Due to the unique provisions of the event, whereby UPenn matches the fundraising on a dollar-for-dollar basis, grants totaling $100,000 will be awarded on January 1, 2017.
Co-Captains Susan Coddon and Harriet Saxe organized the fundraising efforts and marshaled our 15 dedicated riders in Philadelphia, Pennsylvania, on May 7th.
---
May, 2016
"LIFE THROUGH A LENS" (Short Documentary on Robert Zuckerman and APBD) at the Los Angeles Reel Film Festival- wins first prize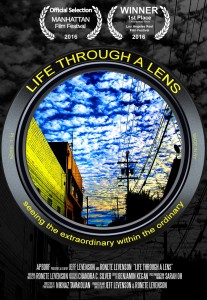 We are pleased and proud to announce that "Life Through A Lens", which tells the story of one person's journey with APBD (Adult Polyglucosan Body Disease), a rare, untreatable, debilitating genetic disease, has been accepted to The Los Angeles Reel Film Festival AND has been awarded FIRST PLACE in the Festival's Short Documentary Category.
Screening information is below. If you wish to make a tax-deductible donation to support research for a cure for APBD, please email info@apbdrf.org or go to www.apbdrf.org.
THANK YOU.
Whitefire Theater
13500 Ventura Blvd.
Sherman Oaks CA 91423
May 18th 2016
Block 1
6pm-8:05pm
" Extortion " Dir. Robert Jaffe
" Dallas, Sunday Morning " Dir. Will Ilgen
" Savages " Dir. Martin Desmond Roe & Nick Frew
" Life Through A Lens " Dir. Jeffrey Levenson & Ronete Levenson
" Now They Not " Dir. Kelsey Amara
" Mirror " Dir. Dustin Biren & Thomas Ouziel
" Bye Bye Bernard " Dir. Jack Martin
" Two Hundred Percent " Dir. Ryan S. Porush
TO PURCHASE ADVANCE TICKETS (RECOMMENDED) and for further information: http://lareelfilmfest.com/Screening.html
TRAILERS:
APBDRF documentary "Life through a Lens" world premiere at Manhattan Film Festival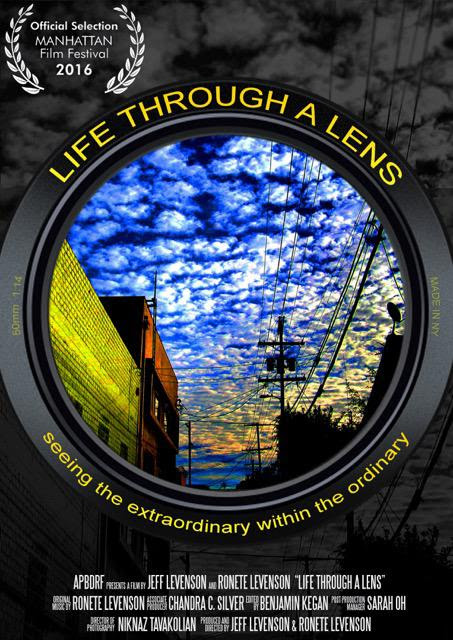 We are so very excited that our documentary "Life Through a Lens" was accepted for its worldwide premiere at the Manhattan Film Festival (MFF) in April. MFF was recently named among "The Coolest Film Festivals in the World." "Life Through a Lens" follows the journey of photographer Robert Zuckerman, an APBD patient, and how he has chosen to face his diagnosis and live life to the fullest. As the film captures, Robert empowers those living with the challenges, physical and otherwise, brought on by APBD and all debilitating diseases. His ability to harness optimism and possibility in life is inspiring and revelatory.
---
March, 2016
APBDRF now a participating organization of TRAIN
We are pleased to announce that the APBDRF is now a participating organization of The Research Acceleration and Innovation Network (TRAIN), a FasterCures program established to create opportunities for medical research innovators to discuss and tackle the challenges that cut across diseases. TRAIN is a unique network of patient-driven nonprofit foundations that fund medical research across a spectrum of diseases. They represent the kind of organizations that are fast becoming the engine behind innovation in disease research – collaborative, mission-driven, strategic in their allocation of resources, and results-oriented. The APBDRF is excited to join innovative patient foundations in #FCTRAIN as we tackle challenges across diseases train.fastercures.org
---
November, 2015
Job Opportunity
Genetics Educator and Outreach Coordinator
Part Time, Telecommute
More info: http://bit.ly/geneticjob
---
October, 2015
APBDRF participated
World Orphan Drug congress 2015
---
October, 2015
APBDRF invited the Israeli APBD community on Sunday October 18th at 2 pm to an event  at the Porter Center in Tel Aviv University.
30 people attended representing a dozen APBD families.
The agenda
1)Welcome and a few words about the APBDRF – introductions were very moving.
2) Preview of the 11 minute documentary "Life through a Lens". Robert Zuckerman attended from Miami via Skype to introduce a rough draft screening. See his comments in another post.
> This is a film about one person's journey with APBD and how he has chosen to face it. Robert and the filmmakers hope to empower those living with the challenges of APBD and all debilitating diseases and harness richness and possibility in life.
3)Dr. Or Kakhlon and Pepticom presentation on their research. They have designed a peptide which appears to stabilize Y329S, the most common mutation found in all diagnosed APBD patients.
4) Prof. Miguel Weil, the head of the Laboratory of Neurodegenerative Diseases & Personalized Medicine where our high content screening facility is located and with whom I collaborate on APBD research, will talk during the meeting on our new personalized approach for finding a cure to APBD using high content screening after which there we will take a tour of the Tel Aviv University facility where the High Content Screening takes place.
thank you to Rafi Segal for arranging this and giving us the opportunity to meet.
---
August, 2015
Dr. H. Orhan Akman: RGI BeHeard Grant Winner
The Rare Genomics Institute (RGI) is a non-profit organization that helps leverage the resources of industry and academic partners to promote research discoveries related to rare diseases. Its division, BeHeard, (Helping Empower & Accelerate Research Discoveries) offers premium biotechnology prizes to rare disease researchers.
Dr. H. Orhan Akman, Associate Research Scientist at Columbia University Medical Center in New York, has won a grant from the 2015 BeHeard Challenge. Dr. Akman's grant is related to the mouse models he develops for APBD research. Dr. Akman, your work means so much to the APBD community. Congratulations!
---
July, 2015
Frequent misdiagnosis of adult polyglucosan body disease. – PubMed – NCBI
Hellmann MA, et al. J Neurol. 2015.
---
July, 2015
House overwhelmingly passes 21st Century Cures Act – Modern Healthcare
21st Century Cures (H.R. 6) bill passes in House by vote of 344-77Washington, D.C. – July 10, 2015 – The following statement was issued by Peter L. Saltonstall, President and CEO of the National Organization for Rare Disorders (NORD), on today's approval by the House of the 21st Century Cures legislative initiative.
Today's passage in the House of the 21st Century Cures (H.R. 6) bill is a huge win for the rare disease community, which actively supported the legislation. By promising mandatory funding for the NIH, strengthening the FDA's ability to streamline the clinical trials process, and further incentivizing the development of orphan products, 21st Century Cures will help pave the way for developing new cures and treatments, thereby closing the gap for the vast majority of the 7,000 rare diseases that currently have no approved treatment. The legislation positions the U.S. to be the continued international leader in medical product innovation.
NORD congratulates the House, Energy & Commerce Committee and the other groups who worked to help this initiative pass. Today's vote underscores the bipartisan commitment to move this legislation through the House and we hope the same spirit of collaboration leads to prompt development of similar legislation for consideration by the Senate.
Peter L. Saltonstall
President and CEO, National Organization for Rare Disorders (NORD)
May 17th, 2015
Congratulations to Dr. Heather Lau APBDRF Scientific Advisory Board member for being awarded a NTSAD grant.
Project: Defining the Natural History of 
Canavan Disease through Development of 
an International Registry
Principal Investigator: Heather A. Lau, MD, MS
Co-Investigator: Paola Leone, PhD
Institution: New York University
Co-funder: The Canavan Foundation
Goals of the proposal:
* Create an international electronic database to gather data prospectively in order to enhance the understanding of clinical variability, further define the relationship between genotype and phenotype, and delineate the progression of natural history of patients with Canavan disease (CD).
* Maintain a bio-repository of blood and urine specimens collected from CD patients for potential evaluation of biomarkers.
* Provide the medical community treating patients with CD with recommendations for monitoring and managing patients in order to optimize patient care.
* To define and categorize clinical endpoints that may be used for the development of clinical therapeutic trials.
---
May, 2015
APBD Now Included!
Mount Sinai's Genetic Testing Laboratory will now include APBD as one of 58 disorders in their comprehensive Askenazi Jewish Carrier Screening
---
April, 2015
Dr. Orhan Akman presents new Second APBD mutation discovery at American Association Neurology meeting April 2015 Washington, D.C.
---
April, 2015
11th Annual APBDRF Scientific Advisory Board Meeting April 15, 2015 NYC – abstracts
11th Annual APBDRF Scientific Advisory Board Meeting April 15, 2015 NYC – abstracts
---
February, 2015
APBDRF Accepted into NORD
As of February 2, the APBD Research Foundation was accepted as a member organization in NORD, the National Organization for Rare Disorders. Through NORD, member organizations gain a stronger voice in rare disease visibility, advocacy, policy development, education, and research support. Becoming a NORD member reflects well on the APBDRF. Acceptance was by no means a shoe-in. NORD reviewed and approved of our organizational infrastructure, as well as our actual work on behalf of APBD patients. They confirmed that the research foundation has appropriate by-laws, board membership, scientific advisors, financial budgeting, board meetings, and record-keeping. They reviewed our Annual Report and the educational materials that we distribute. We're quite proud of this achievement. Our thanks go to the many hands who developed our application package


---
February, 2015
Rare Disease gets the Spotlight
Rare Disease Gets the Spotlight of Discovery 12-11-14 (1)
---
December, 2014
APBD is awarded Guidestar Level: Silver
Great News.  The APBD Research Foundation has recently earned the Silver participation level from the GuideStar Exchange. This is a testament of the Foundation's commitment to datatransparency.  Guidestar collects, organizes, and presents the information on charitable organizations in an easy-to-understand format. By providing up-to-date information to GuideStar, we are ensuring that timely and accurate information about the APBDRF reaches the 10 million annual visitors to GuideStar's website and millions of other viewers reached through GuideStar's network of donation providers, search engines, donor advised funds, foundations, and more. This enables potential donors and grant providers with vital information about the Foundation.

http://www.guidestar.org/organizations/20-3609790/apbd-research-foundation.aspx